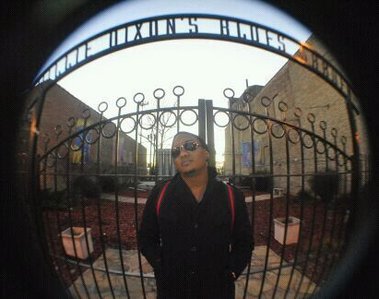 DJ Røsskid was born in Chicago, IL at South Chicago Hospital now known as Trinity Hospital on Chicago's Eastside near Commercial and Jeffery in November of 1985 to Bernadette Barnes. Bernadette raised Røsskid by herself as a single mother in his earlier stages of life. In his younger teenage years around age 14, Røsskid struggled with family and street issues while growing up in Chicago, IL and its neighboring suburbs. With lack of emotional support at home he found himself in trouble most the time in the streets and at school. Røsskid found guidance from his older cousin Jason 'Benjamin Green' Johnson after suggestions were made to help him focus and get on a better path. It was then when Røss's career started to take form in its beginning stages were he learned the skills of deejaying, songwriting, engineering, and music production. Along with receiving mentor service from his cousin, he also was introduced to the industry. In his introduction stage he met some of Chicago's biggest names that have contributed to the industry, as we know it today. Some of those figures include Lupe Fiasco, Kanye West, No I.D., Jahmal Rasheed of Spike n Jahmal, Common, and Twista. Other figures that help Røsskid form was one by the name C-Fix, who was at the time friends with Røss's cousin and Lupe. C-Fix had a large part in the coming up of Røsskid after several names were used and tested out when Røss was in the stage of having dreams to be a rapper. It wasn't until later Røsskid decided to go back and take on the name Rosskid given to him by C-Fix after listening to an old song were C-Fix mentioned him and also featured his cousin Benjamin Green and Lupe.

For the last ten years Røsskid has put diligent time into his own production company, Chi Fussion Productions, Inc. In the recent years he has become known as, Chicago's Prince of Juke & Soul and made numerous accomplishments that have boosted his career. Røsskid is a member of Chicago's most elite DJ crew, the Soul Selector DJs of Chicago and one of the most famous hip hop crew Dipset which, includes members such as, Jim Jones, Cam'ron, Freekey Zeekey, JR Writer, and Juelz Santana. With these networks he has built a name for himself that is sure to go very far in the music industry, which many strive to get into.

Rosskid has accomplished to become the first and youngest DJ from Chicago to be apart of Island Def Jam Music Group's DJ pool since the merge of Island Records and Def Jam Recordings. He has had the opportunity to DJ for artist such as, Mike Posner, Jay-Z's first Roc Nation artist J.Cole, Mac Miller, B.o.B., Lupe, Rick Ross, Chris Webby, The Kid Daytona, Mickey Factz and many more. Rosskid did work temporally as a tour DJ for another Chicago native by the name of S-Preme, and had involvement with Smirnoff's ͛Be There event in Champaign, IL. Ross has been apart of the national AIDS campaign Blink tour with Justin Walker from BET's Baldwin Hills. Before graduating college during the academic year at school Rosskid was an on air DJ at WBML, which provided him a large out reach to the campus and surrounding areas and has hopes to work for his hometown station, such as Power 92. At the start of his professional career in the music industry he was managed by Make A Mogul Management's Chi Chi (che che) and co-managed by J Roc, A&R's of Lupe's 1st and 15th Productions, Inc. Both Chi Chi and J Roc gave a big start in helping Ross boost his career to the next level. Not only has Rosskid done production and deejayed for artist and venues nationwide, but has made a name for himself internationally. He has done work with popular artist from the UK to Armenia, such as Ellie Goulding and Syusi & Lilli Harutyunyan. In May of 2012 Rosskid became an alumni of the University of Illinois at Urbana-Champaign, having majored in Psychology and Pre-Med and also prominent member of Kappa Kappa Psi National Honorary Band Fraternity, Inc.